If you're using Pages, Numbers, or Keynote with students, it can be difficult to collect those materials through Canvas or Seesaw. Instead of using a file upload (which means you need to download the file to your iPad again) students can give you a shared iCloud link.
Teacher - Assignment or Activity Setup
Students will be submitting a link to an item, so make sure your activity or assignment is set up to accept a link URL.
Share in iCloud
All student iPads back Pages, Numbers, and Keynote files up to their iCloud accounts by default. iCloud also has sharing, similar to Google Drive. Follow these steps to have students save their file to iCloud and get a shared link to turn in to you.
Tap on the three-dot menu in the top right corner of the document, spreadsheet, or presentation.
Tap on Share.
Tap on Add People.
Tap Share Options at the bottom of the menu.
Change the setting to Anyone with the link.

If you want to edit or leave comments on the item, you'll need them to also select Can make changes.

Tap Copy Link to get the iCloud link.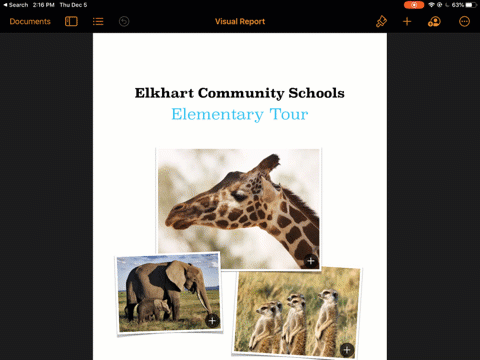 Once the link is copied, the student can paste it into a Seesaw or Canvas assignment to submit.
Accessing the Item
Teachers can access the shared item by clicking the link in Canvas or Seesaw. The resource will open in the browser. If you are working on your iPad, you can also open it directly in the corresponding app.